26th Scandinavian Conference of Linguistics
Aalborg University, Denmark 19-21 August 2015
Venue: Rendsburggade 14, Aalborg

The 26th Scandinavian Conference of Linguistics (SCL26), organised under the auspices of the Nordic Association of Linguists (NAL), was organised by Center for Linguistics and took place at Aalborg University, Aalborg, on 19-21 August, 2015. The conference venue was Rendsburggade 14, Aalborg (see pictures below) situated at the beautiful Limfjord.
This conference was also announced on Sociolinguistic Events Calendar.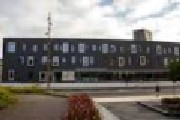 The main theme of the conference was
The Meaning of Language: The Semantics, Logic and Psychological
Reality of Words and Sentences
The following, truly Nordic, speakers gave plenary lectures:
Univ.-Prof. em. Dr. Stig Eliasson, Johannes Gutenberg-Universität Mainz (JGU)
Professor emeritus Hans Basbøll, University of Southern Denmark
Furthermore, there was a special session called 'Old Friends of Linguistics' in which one of my old friends talked about his lifelong interest in the academic subject of language sciences:
(Mr Charles Prescott, University of Sussex:
'Joseph Wright's grammar of his native dialect of Windhill in Yorkshire' – cancelled)
Dr Martin Prior, London:
'From Operational Research to Language and Logic'
On behalf of the Organising Committee
Hans Götzsche (Chair)
Programme:
19 Aug
09:00-10:00 Registration
10:00-10:15 Welcome Address by Rector Per Michael Johansen, Aalborg University
10:15-11-15 Plenary Lecture: Stig Eliasson – abstract
11:30-16:30 Sessions
19:00 NAL Business Meeting
20 Aug
08:30-10:00 Sessions
10:15-11:15 Plenary Lecture: Hans Basbøll – abstract
11:30-16:30 Sessions
19:00 Conference Dinner
21 Aug
08:30-10:00 Sessions
10:15-11:15 Old Friends: Charles Prescott (cancelled) & Martin Prior abstract (60 min)
11:15-11:30 Closing of the conference
22 Aug
08:30 Field Trip – cancelled!
Organising Committee:
Associate Professor Hans Götzsche, Director,Center for Linguistics (Chair)
Associate Professor Torben Andersen, Center for Linguistics, Aalborg University
Professor Kristine M. Jensen De Lopez, Director of Center for Developmental & Applied Psychological Science (CeDAPS)
Associate Professor Lotte Dam, Department of Culture and Global Studies, Aalborg University
Associate Professor Volkmar Engerer, Royal School of Library and Information Science, Aalborg
In parallel with the proceedings publication from the conference in Aalborg in 2006 a number of selected and peer reviewed papers will be published by the international publisher Cambridge Scholars Press.
THE PACKAGE OF PRESENTATIONS (NEw)